VICTORY SALUTE: Ipswich One Mile Gift winner Clay Dawson leads Adam Fogg (2nd), Wayne Adams (3rd) and Josh Nolan (4th) across the finish line at the Ipswich Turf Club.
CLAY Dawson's gasp of disbelief captured his achievement perfectly.
The Ipswich runner's victory salute highlighted his improved mental approach to the sport.
And after hugging his fellow competitors, refocused Dawson was quick to share his latest feat with son Jasper and wife Michelle.
Dawson had just won the 2017 Ipswich One Mile Gift on the Ipswich Turf Club sand track.
"I was absolutely flabbergasted," the popular athlete said.
"No one ever wins these races and expects to win, especially being a handicap race. It's handicap for a reason and that's that blanket finish."
Dawson, 36, is a regular winner of longer distance road events around Queensland and overseas, being one of the region's most consistent runners.
However, he was genuinely surprised after crossing the finish line ahead of race favourite Adam Fogg and another regular Gift competitor Wayne Adams.
"The first year I run this, I was in first place with about 10 metres to go and I got swamped and I ended up finishing fourth," he said. "Three people passed me in the last maybe five steps.
"And this year, I could hear the wolves at the door and they were barking loudly.
"I kicked with everything I've got."
Wearing his familiar headband, the Rosewood State High School arts teacher praised his new mentor Peter Reeves and other Ipswich runners in Saturday's field who had trained with Dawson at Limestone Park.
"Luckily I've been well supported by my sponsors in training and my coach," he said.
"He (Reeves) is getting me ready for the Gold Coast Marathon and I think I'm training better than I ever had.
"I've always considered myself a hard worker and a hard trainer but he's opened my eyes to a lot more intelligent training."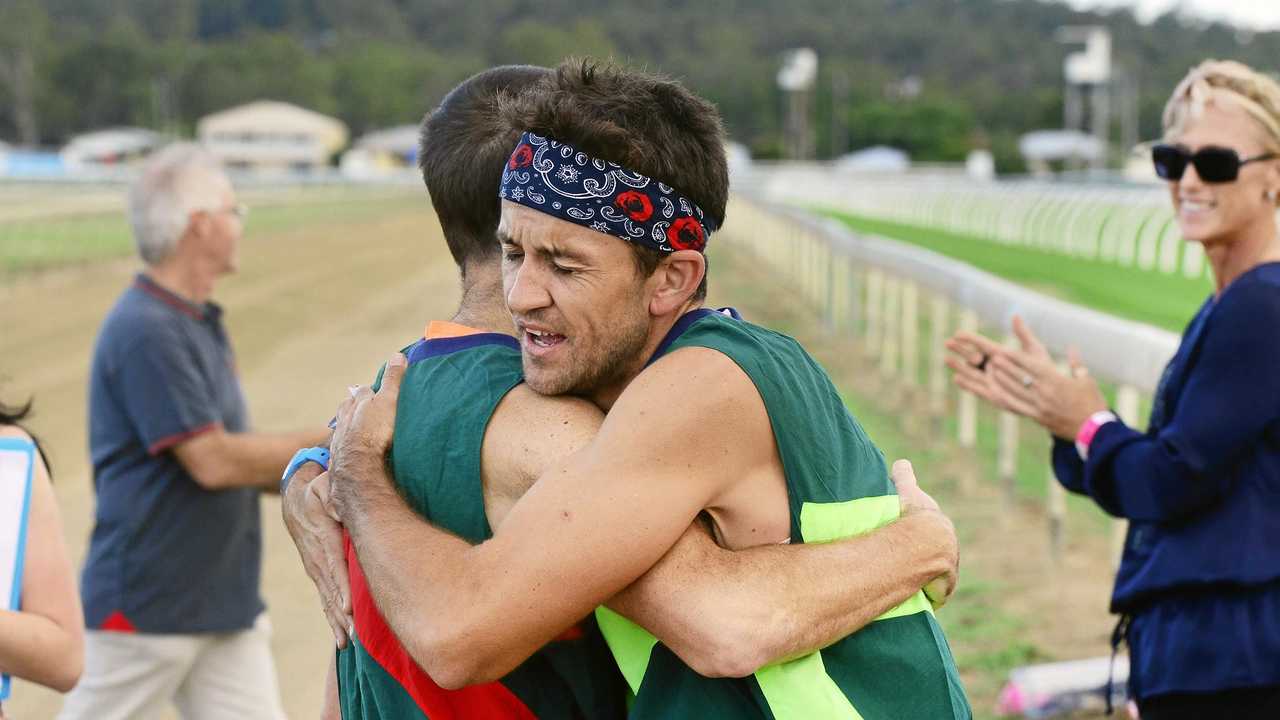 Popular winner Clay Dawson embraces Wayne Adams after Saturday's race at the Ipswich Turf Club.
Dawson said Reeves' knowledge, having worked with elite Australian runners like Robert de Castella and Pat Clohessy, was helping him psychologically.
He's completed three Brisbane Marathons, one Gold Coast Marathon and has been a regular Park2Park winner. Dawson also won the 2013 Phu Quoc half marathon in Vietnam, entering for a run while on his honeymoon in that country.
However, with an 18 month old son, supportive wife and elite level coaching support, Dawson has changed his mental attitude.
"Part of my problem was I was racing too much," he said, having to contend with hamstring problems last year. So the quality training wasn't happening because I was too busy recovering from races which weren't my goal races.
"I guess it's the equivalent of the Broncos going out and playing five first grade games a week and then expecting to play well on Saturday. It's just not going to happen."
However, buoyed by Saturday's success at Bundamba, Dawson entered today's QUT Classic and finished second in the 10km event.
In Saturday's earlier QAL 300 race, Kerryn Ryan led home a trifecta of Ipswich and District Athletic Club runners.
Ryan, off a handicap of 64, beat Tara Chaplin (68) and Elizabeth Melrose (64).
Saturday's annual foot racing events were supported by the Ipswich Hospital Foundation, QAL, Ipswich Athletics, and Ipswich Turf Club.
Top finishers
Ipswich One Mile Gift: 1. Clay Dawson 4.02.72, 2. Adam Fogg 4.03.28, 3. Wayne Adams 4.03.56, 4. Josh Nolan 4.04.07, 5. David Lean 4.06.09.
QAL 300: 1. Kerryn Ryan 32.38, 2. Tara Chaplin 33.35, 3. Elizabeth Melrose 33.62, 4. Nicholas Grant 35.04, 5. Lorenz Ryan 35.68.