Rapidly rising athlete Montanna McAvoy with her gold medal won at the latest state titles.
WHEN you watch as much athletics as Vic Pascoe, it can easily become a competitive blur.
However, the Ipswich and District Athletics Club supremo shared a favourite moment among another outstanding display by his large team at the latest Queensland Track and Field Championships.
Ipswich's 33 athletes competed in 56 events, returning with a swag of medals and personal best efforts from the four-day competition.
Among those was the exciting effort of Kiara Condon winning the silver medal in the under-14 high jump.
"It was a massive improvement over the past few weeks," Pascoe said.
"She is now going to nationals."
Condon is coached by highly regarded Theresa Stolberg and Kiara's uncle Mark Sills who still has high jump records at national level.
Kiara achieved a personal best 1.51m leap in the high jump and won a bronze medal in the 80m hurdles. Her time of 14.69 seconds was also a PB.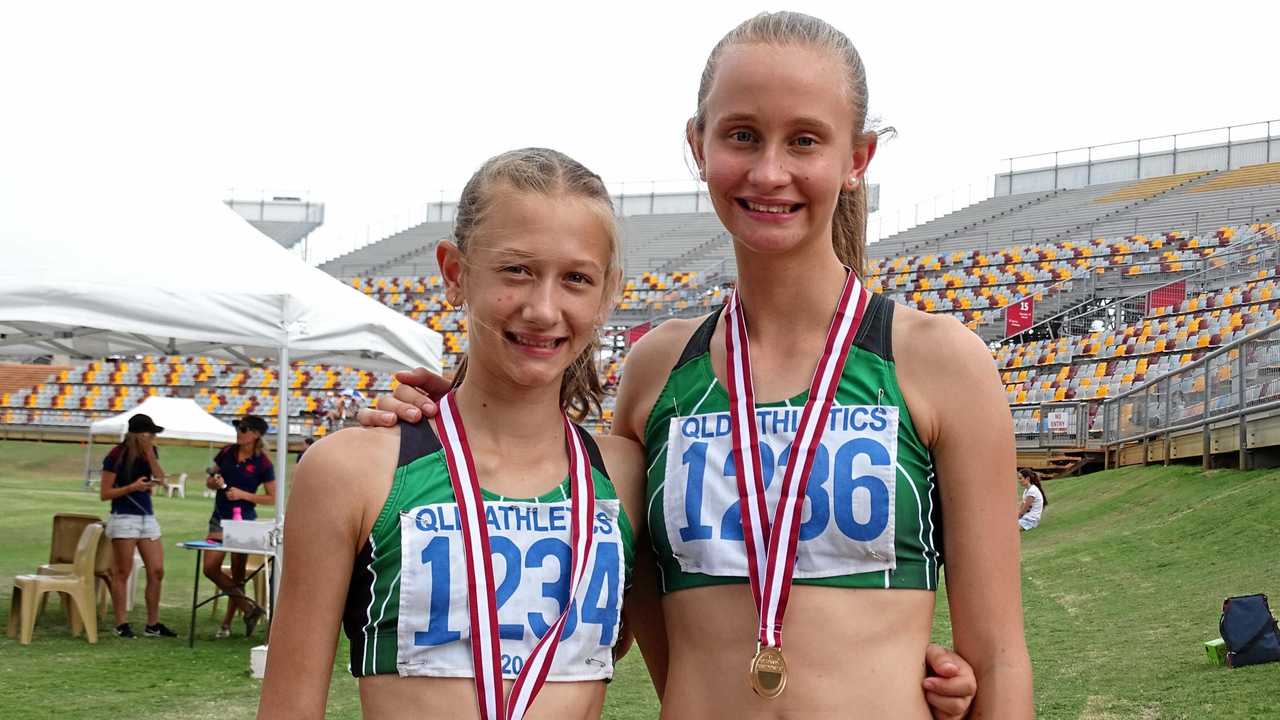 Ipswich and District Athletics club sisters Erin and Hayley Wright.
A number of Ipswich club athletes qualified for the Australian Track and Field Championships in Sydney from March 26-April 2.
They include Montanna McAvoy and Zac Caterson, who Pascoe rated standout performers at the state event.
McAvoy won the under-18 2km steeplechase and set a personal best time of 4.31.94 in coming second in the under-18 1500m.
Caterson won silver medals in his under-16 shotput (16.48m), javelin (51.61m) and discus (55.95m) events. His shotput and javelin throws were personal bests.
Pascoe said the "surprise effort" of the state titles was that of Joshua Carrick.
He set personal bests in winning the under-15 100m and 200m hurdles, showing his determination having only taken up hurdling in recent months.
"Even a disqualification at his first attempt at hurdles has not dented his confidence," Pascoe said.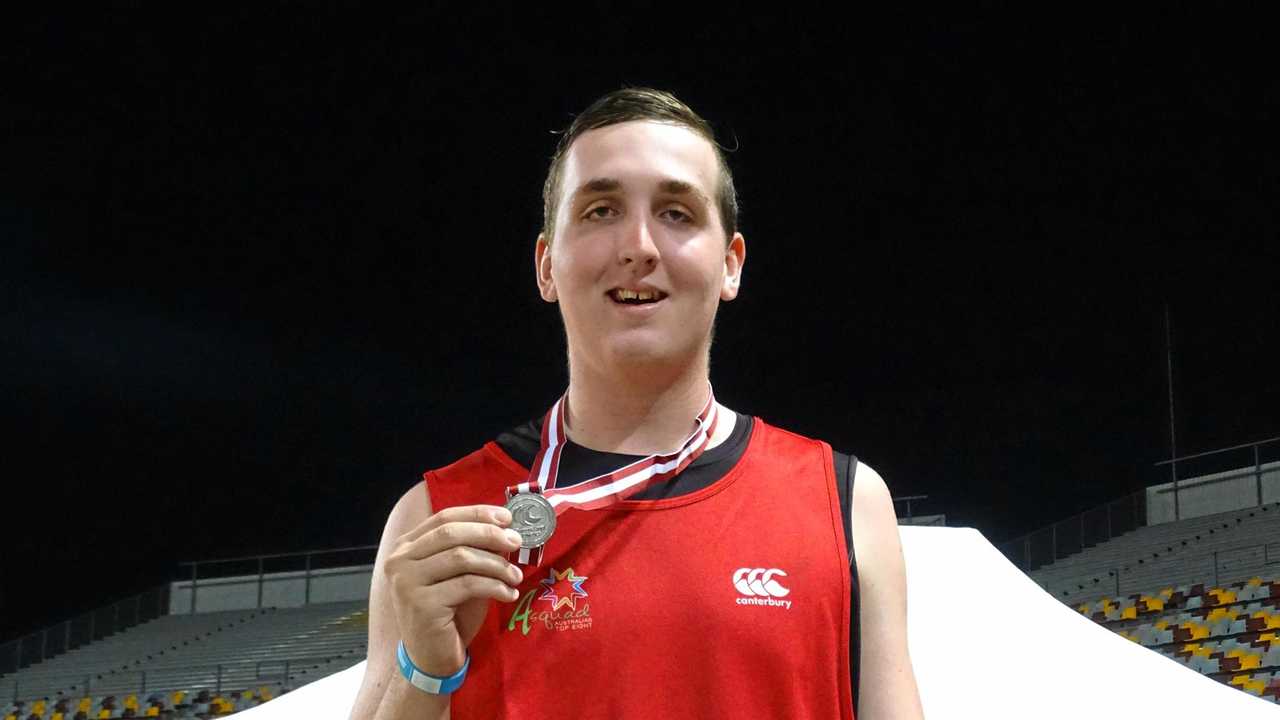 Ipswich club competitor Zac Caterson with one of his three silver medals.
Carrick has qualified for the national titles.
Other inspired efforts came from Wright sisters Erin and Hayley.
Erin won the under-14 80m hurdles in a personal best time of 13.03.
Hayley won the under-17 100m hurdles, also in a PB (14.34).
AWD athletes Claire Keefer (F41) and Kyra Domrow (F12) performed at a high standard.
Rio Paralympics medallist Keefer won her discus and shotput events, with Domrow collecting silver in the discus and shotput.
Keefer's discus throw was a PB.
Domrow achieved improved efforts in her discus and shotput.
Ipswich club newcomer Kyan Paterson impressed his coach Stolberg with a personal best in the high jump. He won a silver medal, having only joined the club this season.
Paterson has qualified for the nationals.
Other club medal winners were Kelly McNamara (gold in the 3km steeplechase), Camryn Novinetz (bronze in the U15 3km walk), Breeanna Betzold (silver in the U16 3km walk), Clare Sullivan (third in the U17 discus), Ryan Stewart (silver in U16 3km walk) and masters competitor Darrin Norwood (bronze in open shotput).
Regular medal winner Rochelle Vidler won a gold and silver in her respective under-18 and under-20 hammer events.
The athletes performed exceptionally in good weather the first two nights before having to overcome extra challenges.
"The conditions changed dramatically as the wind changed so significantly that the photo finish was changed for the 100m events and then had to run the opposite way to get favourable wind, sometimes too much," Pascoe said.
Pascoe was impressed with the camaraderie in the Ipswich club team.
"The athletes show lots of support and team spirit for others when competing on and off the field," he said.