Trevor Cox from Crossfit Electrify and Ipswich Olympic Weightlifting Academy coach Deb Acason at their Dinmore location.
EVER-competitive Ipswich sportswoman Deb Acason has already created history for her remarkable feats.
But feeling revitalised aged 33, she's hoping to achieve another memorable milestone.
After a pleasing performance at her first weightlifting competition since May last year, Acason is chasing a spot on her fifth Commonwealth Games team.
The Dinmore-based mother knows she'll need to improve her lifts at the state titles and Australian championships to secure a place at next year's Games on the Gold Coast.
However, after qualifying comfortably for the Queensland event, she's upbeat about her prospects.
"I surprised myself in the open club competition last Saturday," Acason said, having lost 10kg.
"I only needed a 121kg total to qualify for state champs and ended up lifting 194kg total to put me back into the number one spot in Australia for the new women's 90kg class.
"This now qualifies me to lift at state champs on April 1-2, then nationals in the first weekend in June.
"Everything felt really good and really easy and my coach Mike (Keelan) was there and he was saying how good everything looked.
"Hopefully I'll be selected for the Commonwealth and Oceania champs in September at the Gold Coast. This will basically be a Commonwealth Games rehearsal at the actual venue."
The Commonwealth Games selection trials are in Sydney in December.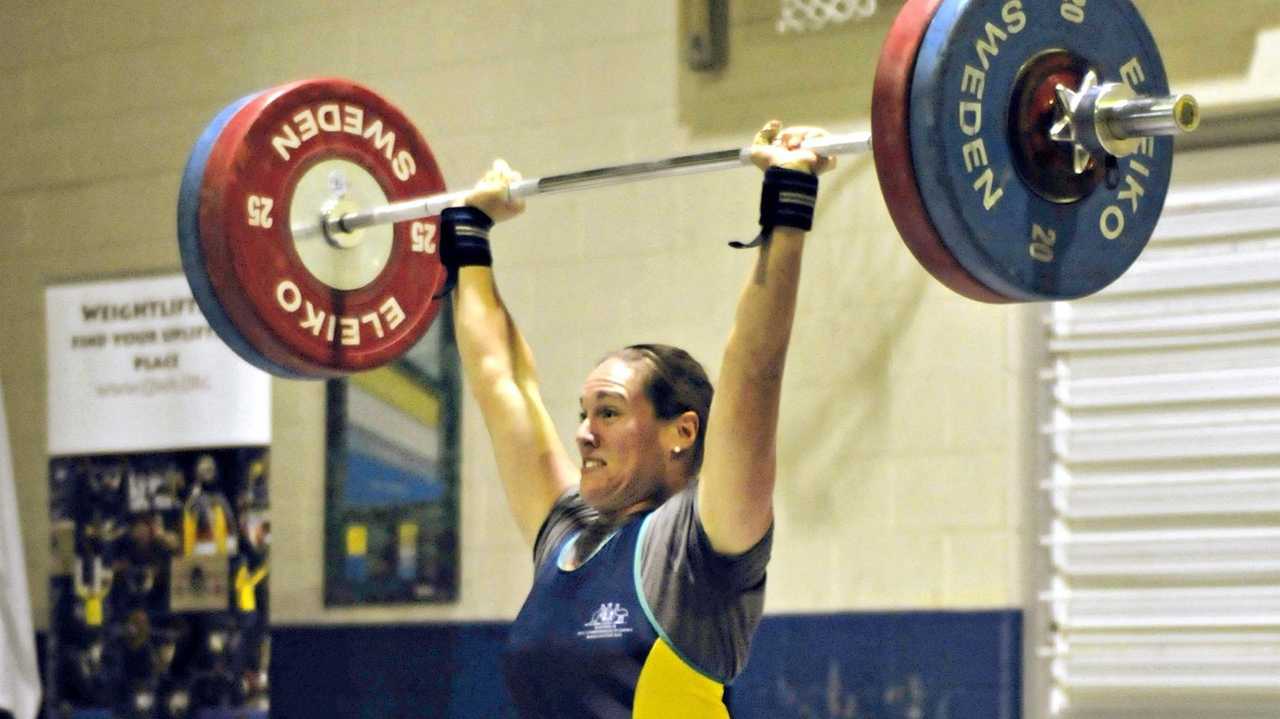 PROUD AUSSIE: Ipswich weightlifter Deborah Acason training for one of her four previous Commonwealth Games missions.
Such a positive attitude and forward thinking is what has made two-time Olympian Acason one of Australia's most successful weightlifters.
She won a full set of medals from Commonwealth Games in Manchester (2002), Melbourne (2006) and Delhi (2010) before finishing fourth by one kilogram at the previous Games in Glasgow.
In between becoming Australia's leading female competitor in the sport, the former Ipswich and District Athletics Club thrower also excelled in rugby and cycling before returning to weightlifting.
No challenge ever seems too big for Acason who recently teamed with long-time coach Keelan to establish the Ipswich Olympic Weightlifting Academy at Dinmore.
Working on that project after having daughters Eva, 5, and Ella (now one and a half), contributed to her feeling refreshed.
"I think having a bit of time off and just doing a bit of running makes you feel better," she said.
She's also enjoying the extra duties being a mum.
Having the Academy in Ipswich will provide another massive advantage.
"That's really a good place to train so close to home," she said, having previously endured so much travel to Brisbane.
Australian Weightlifting Federation CEO and international coach Keelan will continue guiding Acason. "He'll do my program with me," she said.
Boosting Acason's bid is that Australia is likely to select a male and female representative in each weight category for the Gold Coast Games.
While Acason will need to increase her training, she's excited to be back in contention.
"I won't be devastated if it doesn't happen," she said, having already won a gold medal at the 2006 Commonwealth Games in Melbourne.
"But I thought 'why not'?"
Acason has been helping promote the Queen's Baton relay, encouraging Ipswich residents to nominate to share in the city's big day on March 29 next year.
All that lifts her motivation, literally, as she embarks on something that Acason has every chance to achieve.