SUPER SPRINTERS: 2015 Ipswich Lightning Gift placegetters Daniel Mowen (1st), Johnathon Taylor (2nd) and Nick Jansson (3rd) after Sunday night's final at Bill Paterson Oval.
WHETHER the tradition-rich Ipswich Winter Carnival continues in a twilight format will be reviewed at the next Ipswich and District Athletic Club meeting.
However, early indications are next year's 35th staging of the annual competition will remain a Sunday afternoon event running into early evening.
"I was surprised at the numbers that we actually got," club official and coach Vic Pascoe said.
"This year we had twice the number of people ― competitors and spectators ― than what we normally have in the carnival events.
"It made it much, much better."
Pascoe said one suggestion was to start a future twilight carnival an hour earlier than 2.30pm as the night finals were run as it was starting to cool down.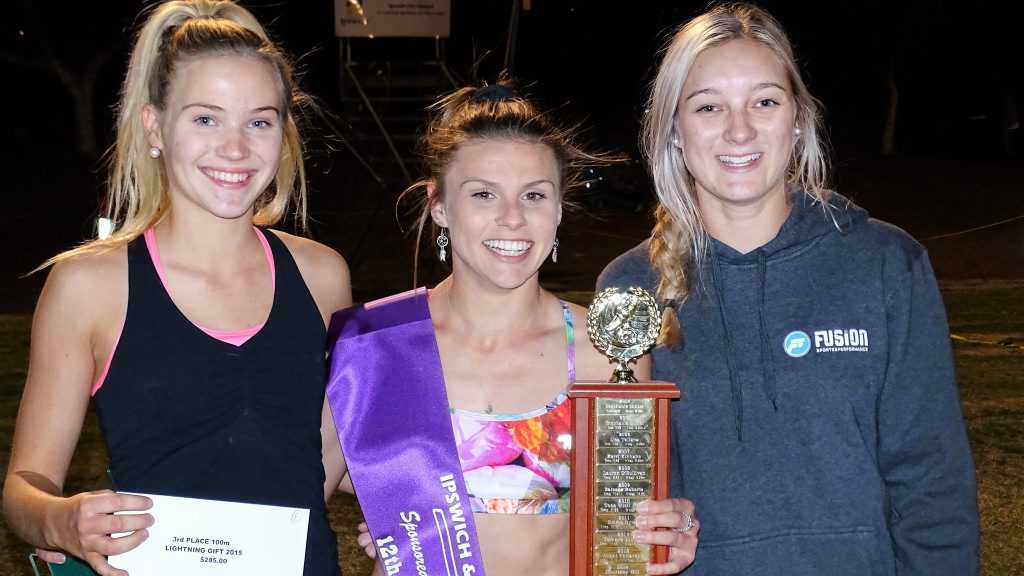 Right: Ladies Gift placegetters Nicole Kay (1st), Kristie Knox (2nd) and Katie Colebourne (3rd) enjoy their success in Ipswich.
Other than that, Pascoe said it was another successful program of handicap racing and track and field events.
Favourites won the two main races offering $3000 each in prizemoney at Limestone Park.
Daniel Mowen, off 7m, won the exciting 26th Lightning Gift (120m) in his last few strides. The Brisbane runner trains with the strong Stacey Taurima stable based at St Lucia.
Mowen, 18, beat Tivoli-based teenager Johnathon Taylor (also off 7m), with Nick Jansson, 20, finishing third off 5.5m.
Mowen covered the 120m at the Bill Paterson Oval track in 12.40s.
Youth Commonwealth Games-bound Taylor recorded 12.47s with Jansson finishing in 12.50s.
In the 12th running of the 100m Ladies Gift, a marvellous display of sprinting came from fancied runner Nicole Kay, of the Sunshine Coast.
Kay, off 3.5m, won in 11.75s.
Brisbane runner Kristie Knox, 20, ran 11.84s, off her 7.5m handicap.
Third-placed 16-year-old Katie Colebourne, of Springfield, ran off 6.5m in 11.90s in another close dash to the line.
Despite heavy rain on Saturday night, Pascoe was happy how Bill Paterson Oval recovered in the Sunday sunshine.
The tireless official mowed the track lanes at 9am, working with other dedicated club supporters to ensure everything was right for competition.
"It was brilliant," he said. "The track came up well.
"We thank our volunteer helpers making this a wonderful day in athletic competition."
Pascoe also thanked the sponsors and businesses for continuing to support the annual carnival.
The athletics fanatic was pleased to see the calibre of athletes in the Ipswich-hosted events.
They included Australia's number one ranked AWD category F44 competitor Daniel Kirk, from South Australia. He threw the discus 44.10m.
"At least seven AWD athletes of varying categories competed whilst trying to qualify for Paralympics competitions whether it was in the sprints or the field events," Pascoe said.
The 70m U/18 Girls Dash was won by Logan visitor Connie Murray, off 6m. She won comfortably in 8.45s from Blackstone-based 16-year-old Ashlee Stieler (off 6m in 8.65s) and Nicole Kay (off 3m in 8.67s).
The 70m U/18 Boys Dash was taken out by 16-year-old Joseph Metcalfe, off 3m. He got up in the last stride in 7.92s to beat Karalee sprinter Daniel Qualischefski (off 3m in 7.97s).
Third place was dead-heated between Jason Gough (off 3.5m) and Zane Branco (off 4m).