HIGH ACHIEVER: Junior World Games qualifier Cassie Purdon (left and above) produces another personal best at the Australian Junior Track and Field Championships in Perth.
IPSWICH and District Athletics Club competitors defied recent wet weather issues to win six medals and set six personal bests at the recent Australian Junior Track and Field Championships in Perth.
Johnathon Taylor (relay gold and bronze medals) led the way along with silver medallists Carley Stieler and Larissa Chambers, and other bronze medal winners Cassie Purdon and Madeline McGuire.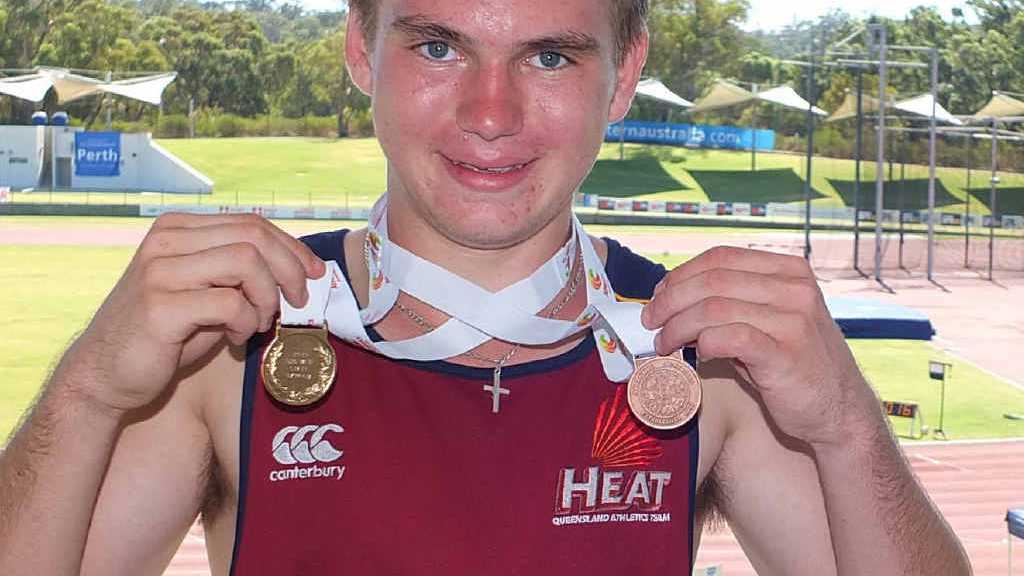 DOUBLE REWARD: Johnathon Taylor won two relay medals.
Fresh from his recent state titles success, under-16 sprinter Taylor was contesting his first national titles.
Nicknamed Johnno, he was ecstatic when he anchored the Queensland 4 x 200m relay to a gold medal by 0.05 of a second.
Johnno was also part of the 4 x 100m relay where the Queensland team finished with a bronze medal.
The Lowood-based teenager also made the finals in the 100m and 200m.
After a week of sightseeing around Perth, Stieler achieved a PB of four centimetres in her under-14 high jump event.
Chambers ran a fantastic leg in the under-20 4 x 400m relay to help Queensland secure a silver medal.
Her performances gained her selection in the Queensland Track Classic on Saturday night, where she'll contest the 100m, 200m, 4 x 100m and 4 x 400m relays.
Purdon won her bronze medal in the under-18 high jump, having recently set a qualifying standard for the World Junior championships later this year.
On the first day of competition in Perth, she set another World Junior qualifying leap to again equal her personal best.
Club official Vic Pascoe said Purdon's effort was more remarkable given she walked 10km with her mum from the track back to the hotel. It was the day before her competition after they missed a bus.
"That took a bit of spring out of her legs carrying all her gear," Pascoe said.
"It was an amazing feat."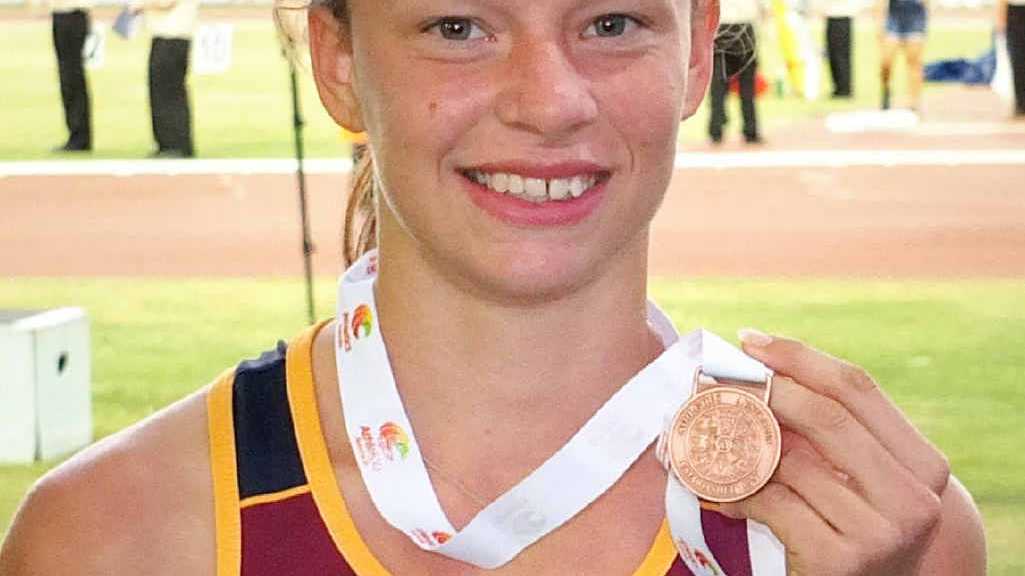 HIGH ACHIEVER: Junior World Games qualifier Cassie Purdon.
Purdon has also been selected to compete in the Queensland Track Classic on Saturday night. She will contest the open high jump.
McGuire's bronze medal at the Western Australian Athletics Stadium came in the under-17 800m. She achieved a season best after being boxed in for most of the race until the last 200m. McGuire stormed home to finish third in a gutsy effort.
Pascoe said Emily Beston was unlucky to have missed a medal. She was beaten by 0.02 of a second in the under-16 steeplechase.
However, she ran a PB of 4.17 seconds which made up for the medal disappointment.
Pascoe said the efforts of all the regional athletes were commendable given wet weather hampered their preparations since the state titles.
"A couple of them didn't quite perform as well as they wanted to but overall we did really, really well," he said.
The next Australian Junior Track & Field Championships will be held in Sydney in March 2014.
However, nine Ipswich club achievers are preparing for next week's Queensland Open and AWD Track and Field Championships at QEII.
Competing from March 26-28 are Cassie Purdon (high jump), Larissa Chambers (100m and 200m), Aaliyah Chambers (400m hurdles), Lindsay Maher (100m and 200m), Scott Tuohy (100m and 200m), Connor McNamara (3000m steeple chase), Alex Grissell (AWD 100m, 200m, javelin, shot put and long jump), John Purdon (javelin) and Liam Henry (discus and hammer throw).
Tuohy is also running in the Stawell Gift over Easter, having enjoyed success last year.
Ipswich and District Athletic Club results wrap:
Carley Stieler: 2nd U14 high jump (1.58 PB).
Raemiga Elle Raeli: 5th U15 discus (35.29m).
Majella Cassidy: 11th U15 90m hurdles (14.75 PB).
Majella Pearl: 10th U15 90m hurdles (14.44 PB); 7th U15 200m hurdles (31.72 PB); 9th U14 high jump (1.49m).
Ashlee Stieler: 13th U15 90m hurdles (14.13).
Emily Beston: 4th U16 2000m steeplechase (7.27.45 PB).
Madeline McGuire: 3rd U17 800m (2.15.12 SB).
Erika Berlin: 7th U18 400m hurdles (69.26).
Larissa Chambers: 7th U20 100m (12.39); 6th U20 200m (25.14); 2nd U20 4 x 400m relay (3.51.68).
Aaliyah Chambers: 15th U20 400m hurdles (73.07).
Cassie Purdon: 3rd U18 high jump (1.78m, equal PB & World Junior qualifier).
Jacob Wells: 13th U15 800m (2.15.63).
Johnathon Taylor: 7th U16 100m (11.46); 4th U16 200m (23.11); 3rd U16 4 x 100m relay (44.35); 1st U16 4 x 200m relay (1.32.72).
Daniel Parnell: 17th U16 400m (55.04).
Joshua Stockill: 5th U18 400m hurdles (56.26).