Long-time Ipswich athletics coach, administrator and latest QAL Life Member Vic Pascoe captured in a photo that says it all.
CATCHING a wild pig at the North Ipswich Reserve seems a strange place to ignite a lifetime athletics career.
However, that's where tireless Ipswich coach and administrator Vic Pascoe put his speed to use as a self-confessed "late bloomer".
Years later, the highly regarded humble sports official summed up in a sentence why he is so deserving of a Queensland Athletic League (QAL) Life Membership.
"(It was) certainly a surprise as I have followed athletes around and I just thought what I do is normal and nothing out of the ordinary thing of a person would do as a volunteer," Pascoe said.
But what the long-serving athletics supremo and 2011 Ipswich Citizen of the Year does is well above the ordinary.
He even recovered from a cerebral haemorrhage in 1986.
"I was inactive for several months and told never to run again but I did and won prizemoney 16 times from 18 professional meets when in my forties," Pascoe said.
He remains one of the city's most recognisable sporting faces due to his passion for athletics, love of motorsport and keen interest in trotting.
But it is in athletics where he easily qualified to become the 17th person to receive the distinguished honour.
He was to be recognised by the QAL at this weekend's 39th Ipswich Winter Carnival. However, sadly the latest championships were called off.
"I felt quite humble when told I was to be a QAL Life Member," Pascoe said.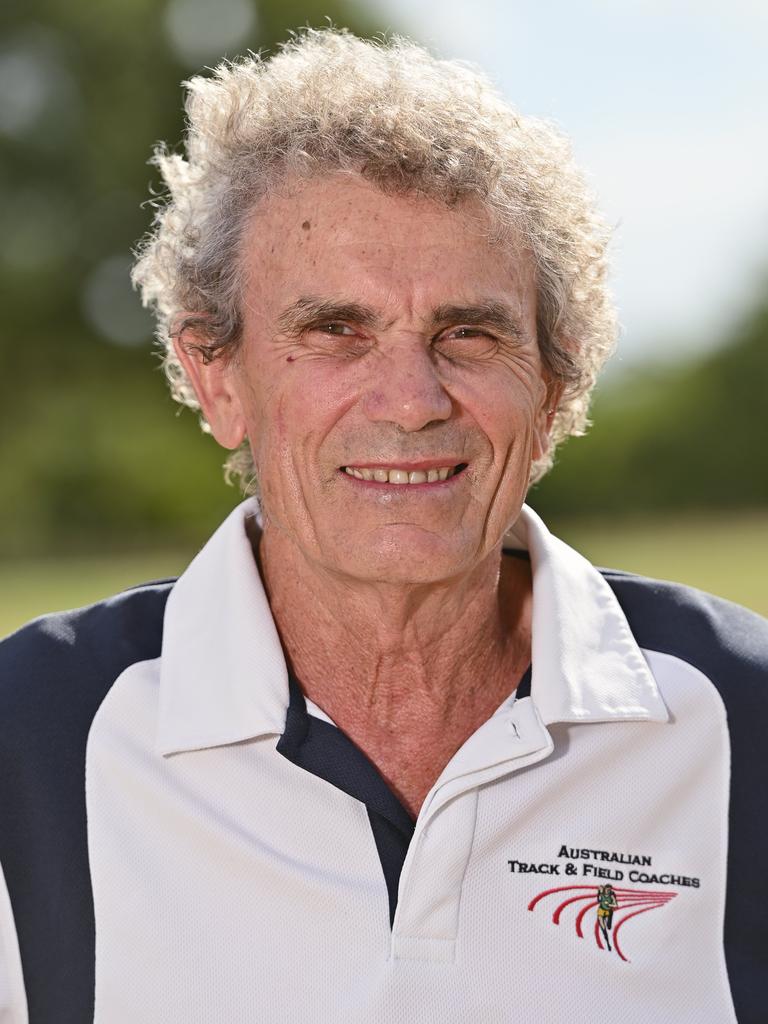 Vic Pascoe is always focused on improving athletics.
'Stalwart' joins elite company
QAL secretary Steve Minns has known Pascoe for 20 years, having worked closely with him at carnivals and regular athletic events.
"He's like a stalwart of the area," Minns said.
In awarding life membership, the QAL acknowledged Pascoe's longstanding contribution as an athlete, coach, official, video recorder and administrator.
Minns said latest recipient Pascoe was joining a "who's who of running" given the long history of professional foot racing, dating back to the 1800s.
"It's a real hard life membership to get," Minns said.
"It's turning up day in, day out over a longer period."
As a runner, Pascoe competed in the 400m at Australian championships between 1972 and 1974.
He came fourth at the 1974 nationals in Sydney and second at the Commonwealth Games Australian trials.
In 1973, he was the Queensland and NSW 400m champion after respective victories in Brisbane and Sydney.
In 1985, he showed he had lost little of his athletic prowess in Hobart, becoming Australian Masters 400m hurdles champion in his 35-39 years age group.
He also came second at those championships in the 400m.
"My best event was the 400m in 47.69 seconds," Pascoe said.
"I managed to get the photo finish because I was the favourite for the 1974 Australian Championship and finished fourth beaten a metre by the winner. But I have thoroughly enjoyed athletics throughout my career."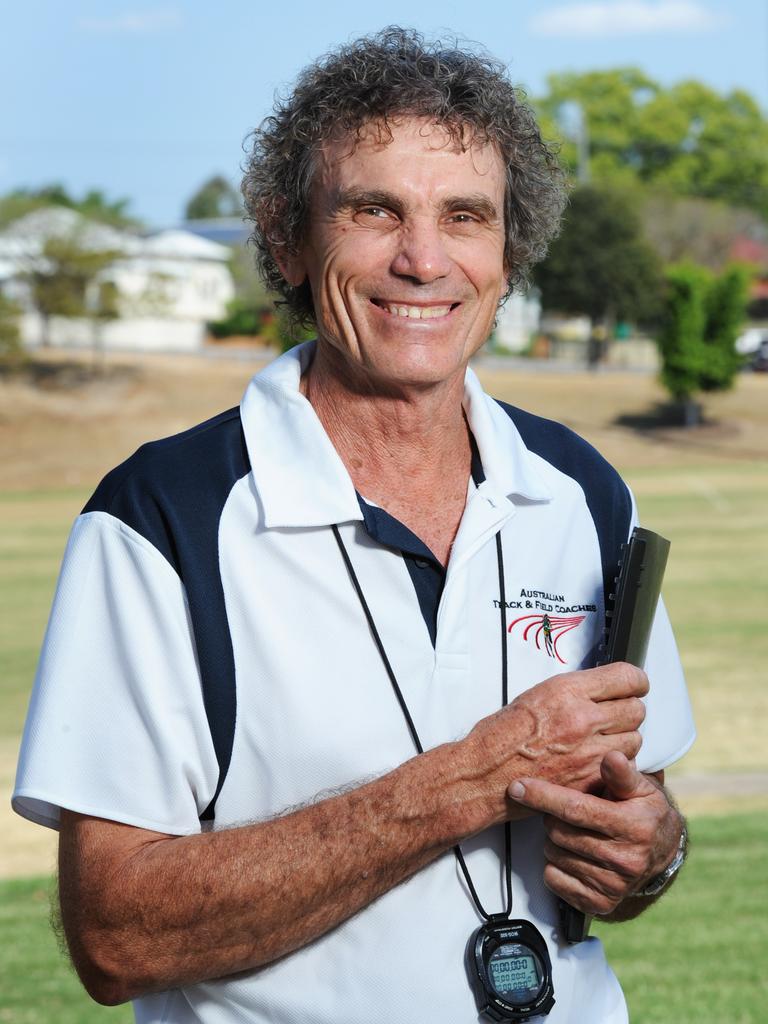 Always out and about helping others, Vic Pascoe has been recognised with some major awards.
Pascoe also competed in the 100m, 200m, 800m, 1500m and long jump. He occasionally contested the high jump (Western Roll or Straddle) and javelin.
He once accepted a decathlon challenge when asked by a team at Mayne Harriers. The team won the gold medal.
Among his previous awards and achievements were as club captain of the Mayne Harriers Athletic Club from 1970-74.
He was awarded life membership of the Ipswich club in 1997.
The 2011 Ipswich Citizen of the Year was named Ipswich Coach of the Year in 2012.
He was popular Ipswich Volunteer of the Year in 2019.
Having grown up in Coalfalls, Pascoe explained why he loves athletics and the role it plays in the community.
"In most sports, you have to run, jump or throw to be involved, so athletics is the cradle of all sports and it's wonderful to see," he said.
Chasing that wild pig
How Pascoe became hooked on athletics is a fascinating story in itself.
"I ran a young wild pig down in December 1968 and started athletics in 1969 when I won the Labour Day Handicap at the Ipswich football reserve, North Ipswich," he said.
"That was in May and then somehow I ended up being coached by the legendary Bill Paterson at the end of June 1969.
"The following year I won a bronze medal for the 200m and came fifth in the final of the 400m State Championships (February 1970).
"It's quite hilarious as I look back because I never made a school team whether it be primary or secondary school no matter how hard I tried.
"It goes to show you can be a late bloomer.
"This is what I tell the young ones who may think they can't make it now, just wait a little longer, you never know what can happen."
Pascoe shared his major success as an athlete.
"Maybe the 400m hurdles 35-39 years Championships in Hobart when I had a torn adductor muscle," he said. "It was heavily taped up for the events."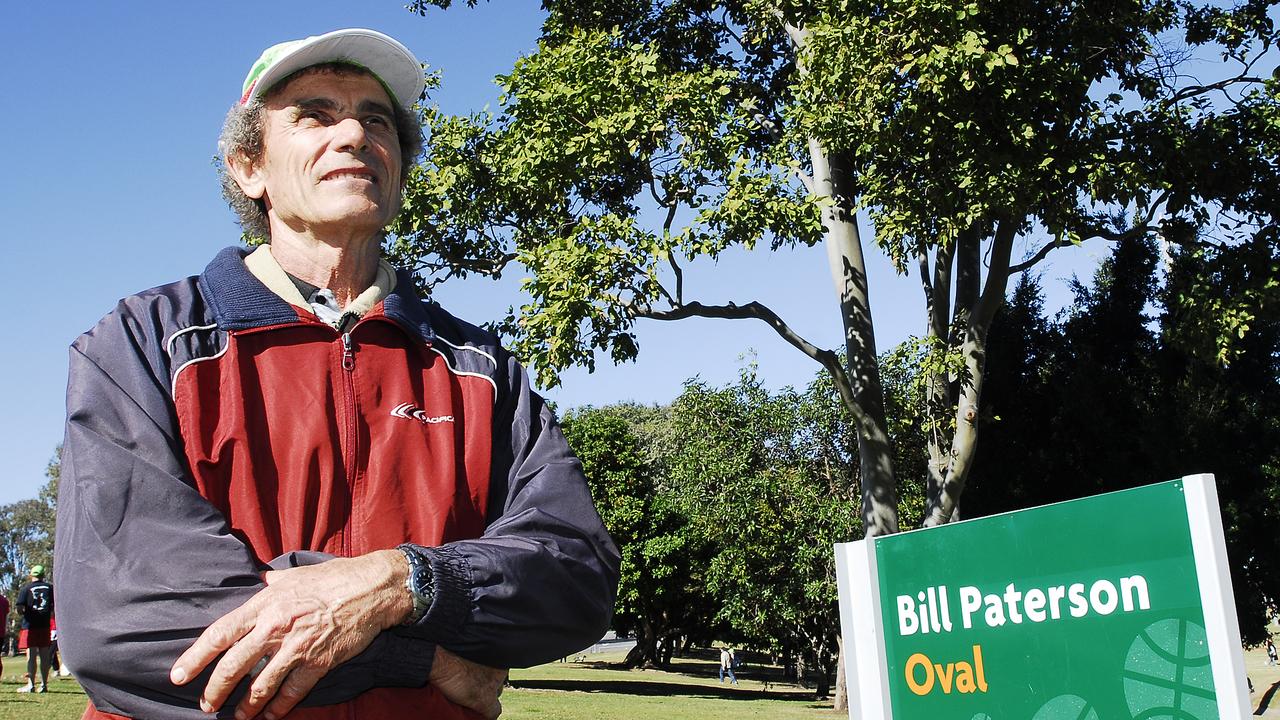 Long-serving coach and official Vic Pascoe at his second home ― Bill Paterson Oval.
Coaching offered chance to mentor thousands of athletes
Becoming a top-level coach was a natural transition for Pascoe who now has Level IV qualifications in sprints, hurdles and relays.
He started coaching in 1980 after returning from Alpha in Central Queensland.
Since that time, he has mentored thousands of athletes "loving every minute of it".
Among the highlights have been coaching competitors who progressed to international level.
They include Arthur Rowe, Larissa Chambers, Alex Grissell, Miriam Peni, Benjamin Thomas and Kirra Csurches.
Rowe was a finalist in the 400m (40-44 years division) at the 1990 World Masters Championships in Italy.
Larissa Chambers preparing for the World Junior Athletics championships.
Chambers came second in the under-18 100m and 200m, and open 4x100m relay at the 2011 Arafura Games in Darwin. She also won or placed in her 100m, 200m and 4x100m relay events as a 16-year-old at the 2012 Oceania Championships in Cairns.
Chambers went on to represent Australia in the 100m and 4x100m at the 2014 World Junior Championships in Oregon, USA.
At the 2012 Oceania Area Championships in Cairns, Grissell won the 100m and javelin and came second in the shotput in her Open AWD events.
Sprinter Peni came third in the U18 final and shared in the open team's 4x100m success at the 2015 Oceania Area Championships in Cairns.
She also competed at the 2015 Pacific Games in Port Moresby (silver in the 4x100m relay), 2015 Commonwealth Youth Games in Samoa and 2016 Melanesian Games in Fiji (third in the U18 100m and 200m).
Thomas finished third in the U18 200m and was part of the winning open 4x100m relay at the 2018 Melanesian Games in Vanuatu.
Csurhes won a silver medal in the U20 100m hurdles at the 2019 Oceania Area Championships in Townsville.
Asked what he enjoys most about coaching, Pascoe answered: "Being able to encourage and motivate an athlete to be the best they possibly can be while improving their technique."
He said the toughest part was losing a promising athlete to another coach.
Apart from his impressive work with the Ipswich club, Pascoe has coached sprints and hurdles at the Ipswich Girls Grammar School since 2002.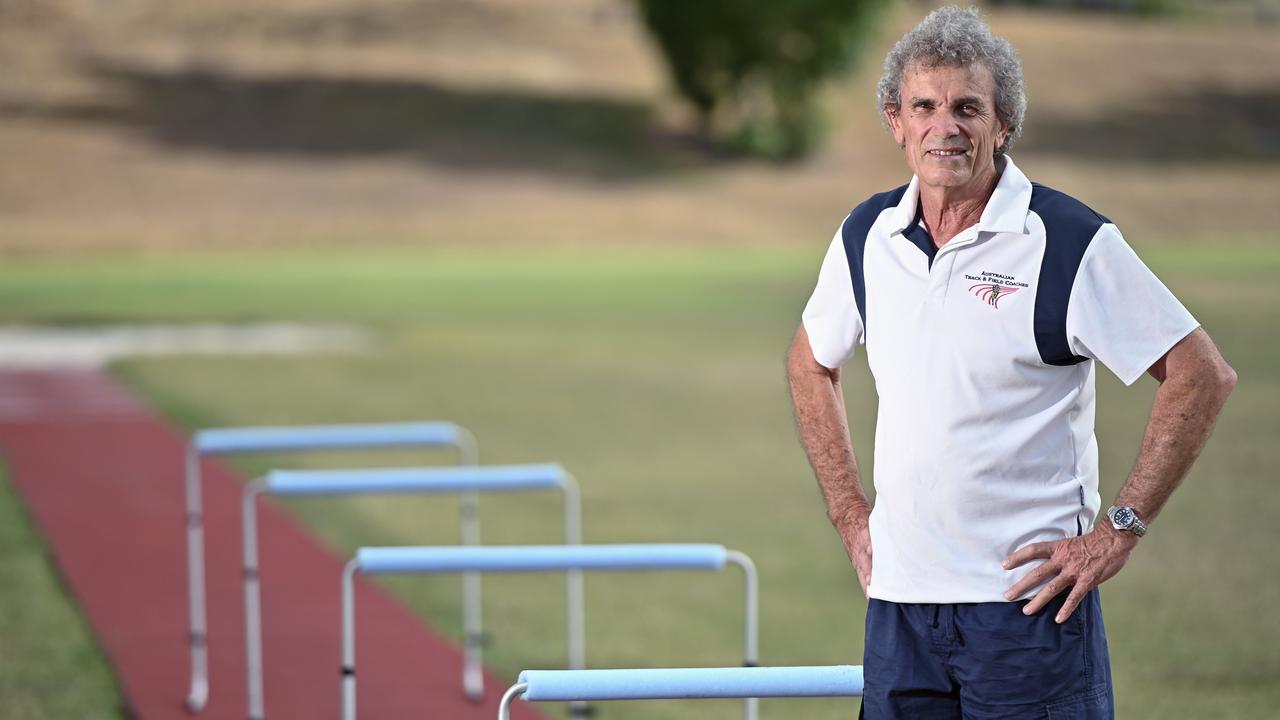 Ipswich athletics supremo Vic Pascoe always enjoys helping others further their career.
Decades of commitment as an official
Pascoe has been the Ipswich and District Athletic Club president on and off for 30 years.
After the club was formed in September 1978, his first stint as club president was in 1983 when asked by then secretary Corrie Hoonhout to take on the role.
Pascoe said the most challenging part of being an official or administrator was "trying to be consistent in every decision made, not always agreeing but always be diplomatic in what happens".
The satisfying aspect always bring a smile.
"Ensuring the athletes are given every chance of being acknowledged for what they have done and just as important, in what they may do in the future," he said.
An amazing record is Pascoe has not missed cheering on his athletes at a national titles since 2006.
He estimates having attended about 45 Queensland Championships, only missing a few when working in Central Queensland.
In his role as coach and club official, Pascoe has supported his athletes around Australia and in Canada, USA, Papua New Guinea, Samoa, Fiji and Vanuatu.
"Just being there, I feel they have an opportunity to discuss things, especially when nerves take over," he said.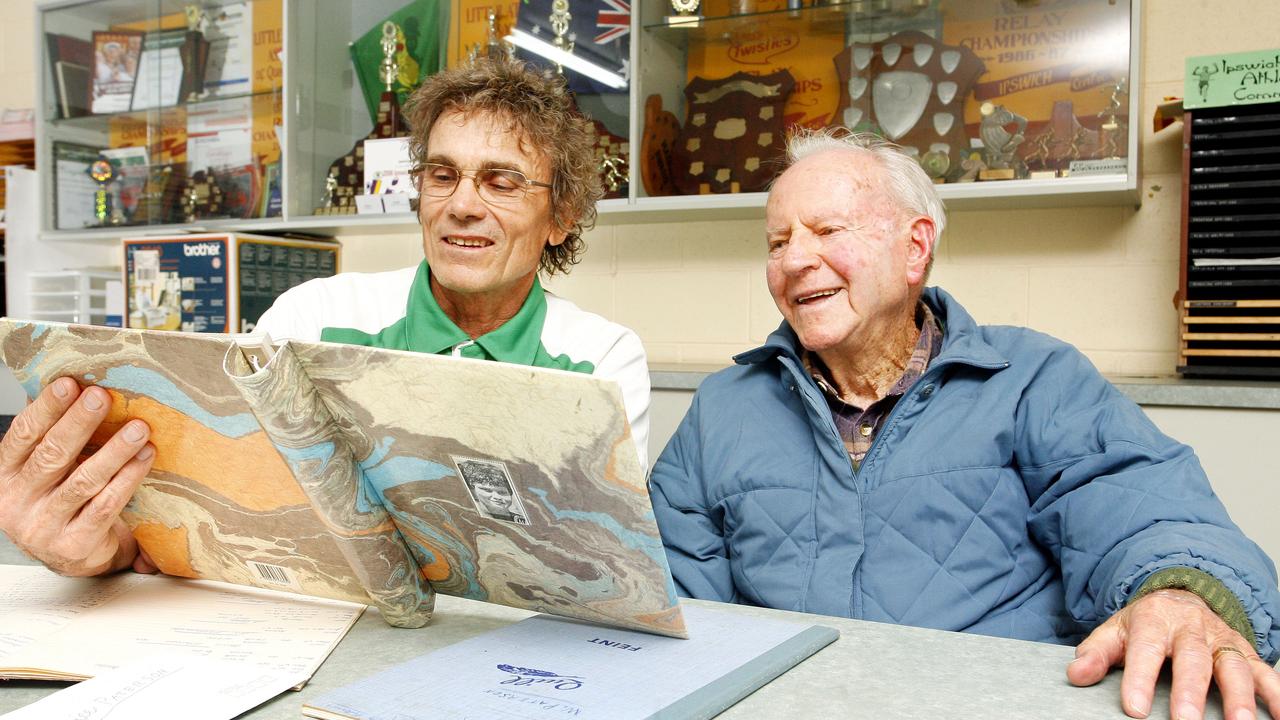 Vic Pascoe enjoys reading Bill Paterson's athletics scrap book and remembering his remarkable life at the venue named after him.
Asked who inspired him, Paterson was quick to offer an answer.
"Bill Paterson wasn't just a coach," Pascoe said. "He was a mentor and wonderful friend.
"Bill was an attendee at the 25th year Ipswich Club celebrations and my last real contact with Bill was to be able to go to his house in Southport for his 92nd birthday.
"Many stories were shared on that day, wonderful memories."
Major goal
One of Pascoe's ongoing missions is joining the contingent lobbying for an all-weather tartan track in Ipswich.
"This would give our youngsters an opportunity to be at their best for the 2032 Olympic Games to be staged in Brisbane," he said.
"We hope we will get this as I can see a major monetary gain when overseas teams want a venue to train at and not be too far from the action."
And what keeps Pascoe busy through the winter months?
"I currently volunteer at the Ipswich Parkrun on most Saturday mornings," he said.
"I have set up more than 248 times, plus many other positions as required."
He recommends the satisfaction being involved brings.
"We always need volunteers. Organisations cannot survive without them," he said.
"It's time everyone gives it a go as many friends and acquaintances are made."
More coverage