GREAT MINDS: Ipswich athletics official Vic Pascoe (left) savours every minute catching up with city icon Bill Paterson at Limestone Park in 2010.
THE man dubbed Ipswich's "Mr Athletics" will be remembered as much for the way he helped people as his track achievements.
Bill Paterson passed away at Boonah on Wednesday aged 97.
The main athletics field at Limestone Park is named after Bill, providing a permanent reminder of his importance to the city.
"He was one of the best mentors around," said long-serving Ipswich athletics official Vic Pascoe.
"He was ahead of his time in a lot of his athletics coaching thoughts.
"I pay homage to him."
Pascoe kept in touch with Bill in his later years, inviting him to Bill Paterson Oval in August 2010 for a catch-up and a chat with me.
Bill's memory was fading, his speech was slowing and he was suffering the cold more as a then 92-year-old.
However, Bill enjoyed returning to the athletics hub named in his honour.
While his stories were fragmented, Bill grinned at every question and nodded his approval at how many elite athletes Ipswich had produced.
His brain was racing faster than when he used to set Queensland records over 440 and 880 yards.
Ipswich-born Bill played an important development role over many years, being a respected coach.
He started in the sport aged 14.
"I got knocked about in soccer," the former Raceview Royals and Blackstone Rovers centre forward said.
"I had to give it (soccer) away because of my running."
In 1937, Bill won the Australian quarter-mile title at Hobart. He represented Queensland again in 1938.
As a coach, he left a lasting legacy mentoring up to 30 people at a time in Brisbane and later at Limestone Park.
Among those who admired his coaching is Pascoe.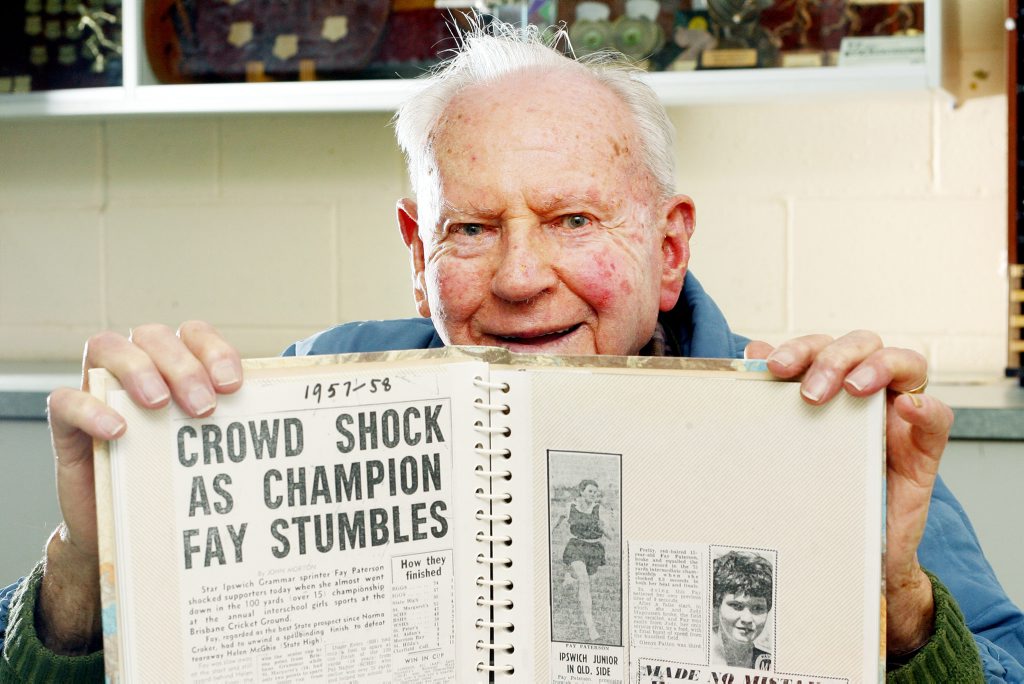 Bill Paterson
Pascoe had joined Bill for his 92nd birthday at the Gold Coast earlier that year.
"For four hours there, we never talked about anything else but athletics," Pascoe said. "It was fantastic."
The pair browsed over an old article ― still in good nick like Bill was ― showing the day in 1979 that the oval at Limestone Park was named after him.
At the time, Alderman Kev Dwyer and Ipswich City Council wanted to recognise Bill's voluntary efforts.
The former miner and Railways workshops employee struggled to recall the time he was honoured. But he clearly appreciated the distinction, again nodding his approval with the grin of a gold medallist.
Bill used to run for the now-defunct Ipswich Harriers before switching to the Christian Brothers Club in Brisbane.
But he never strayed far from Ipswich during his coaching career, working his charges around the hills of Limestone Park.
Between 1968 and 1972, Bill helped former rugby international Jeff McLean improve his sprinting, long jumping and high jumping.
One of the fascinating insights into the man was hearing how he liked to train people who were a "non-smoker, not drinker" and didn't chew gum.
"The girls I think were better than the boys," Bill added.
Bill documented all the athletes he coached, even highlighting the changes in times when his charges started competing on a tartan track from 1975.
He spent his later life on the Gold Coast and at Boonah.
His funeral is planned for 10am on Monday at the Church of England in Boonah.
YOUR TRIBUTES
His family is in my thoughts and prayers. A wonderful innings, RIP Mr Paterson. ― Julie-Anne Pashley
Thoughts and prayers are with family members. May he Rest In Peace. God Bless. ― Gloria Laing Guarino
My thoughts are with his family and friends at this sad time. ― Patricia Carpenter
Rest In Peace Bill Paterson. Sincere sympathy to his family & friends. ― Gayle Wiley
RIP, finally you have your wings. ― Joanne Harbort
RIP Bill . . . ur amazing. ― Heather Daniels