Ipswich and District Athletic Club medal winner Calab Law.
RECORD-breaking performances, personal bests and a massive medal rush.
Club athletics based in Ipswich is as strong as it's been in years.
For Ipswich and District Athletic Club president Vic Pascoe, recent successes at state and regional level are a credit to the dedicated coaches and athletes willing to learn, improve and enjoy their sport.
Two recent competitions highlight the growing strength of Ipswich athletics.
The first was the Metro West regional championships at Bill Paterson Oval where Ipswich Little Athletics Centre competitors won an amazing 210 medals, featuring 88 gold, 63 silver and 59 bronze.
Twenty-two athletes qualified for next month's state titles after a number of record-breaking efforts. I featured that superb achievement yesterday.
Days after the Little A's accomplishment, Ipswich senior club representatives united to win 35 medals at last weekend's Queensland Junior Championships. That comprised 11 gold, 16 silver and eight bronze medals.
At least 19 of the Ipswich senior club's achievers are heading to Perth after qualifying for next month's Australian Junior Track and Field Championships.
"It's really fantastic," Pascoe said of how well the Ipswich Little As and senior club members are faring.
"That is the best result we have had for at least four years in the senior club at state level."
The Ipswich and District Athletic Club had 21 athletes contest last year's Australian Junior Track Championships in Sydney, showing this year's team is maintaining a high level commitment, even with increased financial demands.
"This is massive. It's really, really good," Pascoe said.
"And I believe we have a couple of strong medal chances at the Australian titles."
Among recent record-breakers was Calab Law, who impressed at both competitions.
After improving on a 30-year record in under 12 long jump at the regional championships, he backed up to win the 90m hurdles in his state under 14 event at the Queensland Sports and Athletics Centre.
Calab's hurdles gold medal effort came after he was disqualified for breaking in the under 14 100m.
His excellent attitude and composure impressed former Ipswich Citizen of the Year Pascoe.
"He's got a few things to iron out but he is going very very well," Pascoe said.
"He has talent to burn.
"He is one of those young kids who can do anything."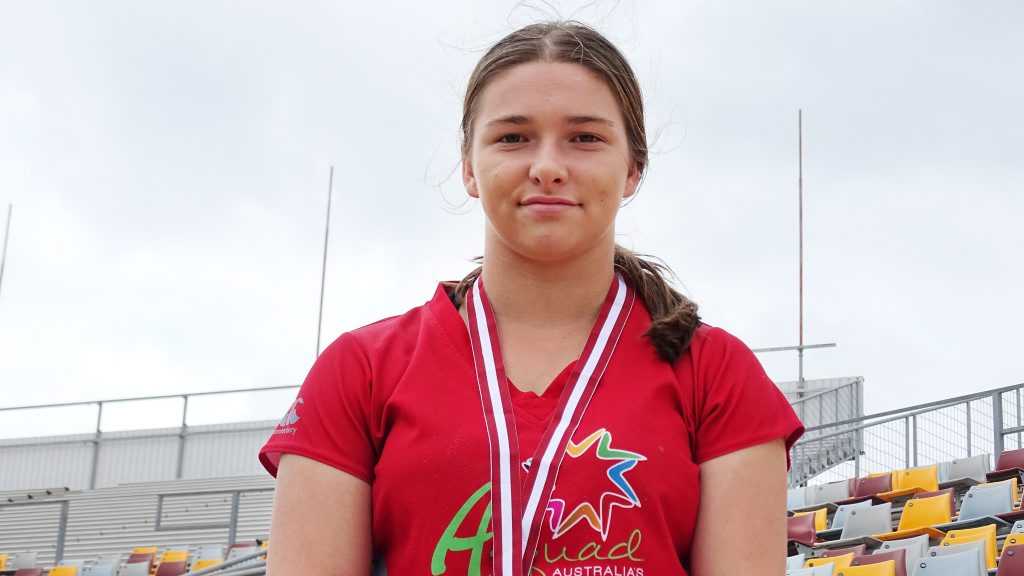 Ipswich and District Athletics Club thrower Rochelle Vidler broke the state under 16 and under 18 hammer records.
Other notable performances from senior club athletes came from Rochelle Vidler, Zac Caterson, Rhys Carr, Wright sisters Hayley and Erin, and Kelly McNamara.
Vidler broke the under 16 and under 18 hammer throw state records in both events. She added a silver in the discus.
Caterson won a rare four events ― the under 15 discus, shotput, javelin and hammer throw.
Carr set a new record and personal best in the under 16 hammer (49.35m).
Erin and Hayley impressed with personal bests in their respective under 14 and under 16 hurdles events.
McNamara, also a representative hockey player, returned to best form. She won the under 18 3000m at the Queensland Sports and Athletics Centre.
Overall, the Ipswich team based at Bill Paterson Oval contested in 65 events at the Queensland Junior Championships.
"The number of personal bests was incredible to say the least, it was amazing," Pascoe said.
"They are a wonderful group of youngsters."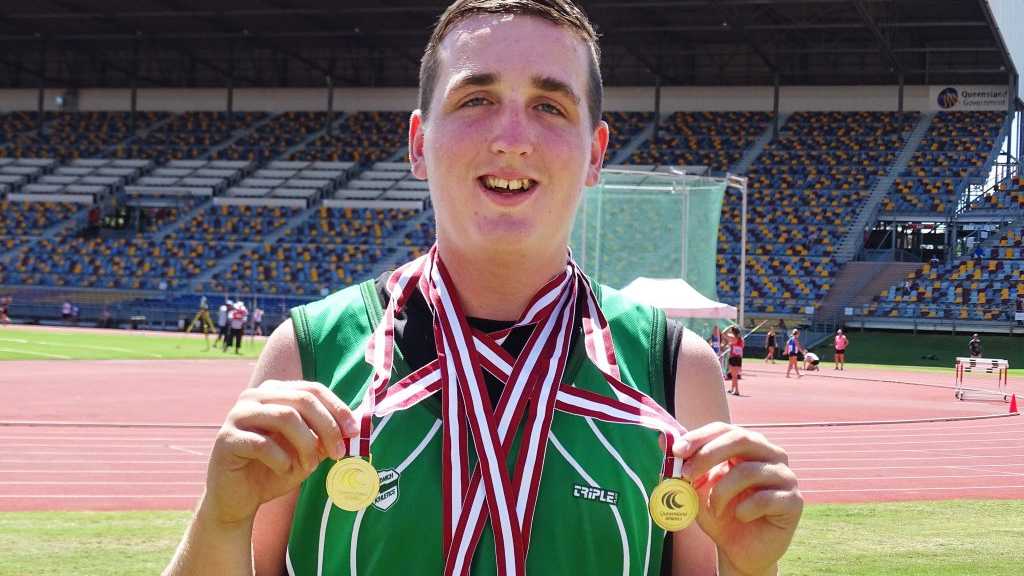 Ipswich and District Athletics Club thrower Zac Caterson won four events at the 2016 Queensland junior championships.
Working for success
VIC Pascoe explains why the Ipswich and District Athletic Club is excelling.
"All our coaches have made a wonderful contribution to ensure all our athletes performed well at their individual events," he said.
"We have got a good background of coaches at the moment making sure that the kids do the work.
"They are setting up an environment where the kids want to do the work, which is probably the best thing in the world for them.
"They have camaraderie. They fit into a team spirit, all working and sticking together, like the old days. It makes it so much better going to a competition."