Ipswich-based athlete Darrin Norwood (left) celebrates his bronze medal-winning performance at the Melanesian games in Suva.
HAD he not overbalanced on his last throw, Ipswich athlete Darrin Norwood may have won the gold medal in Suva.
His mighty final effort cleared his previous personal best of 15.30 metres before being called a foul.
However, Norwood was far from devastated to finish with a shotput bronze medal representing his country for the first time in open competition.
"I was just using it more as experience leading towards the world champs, to get some international experience," Norwood said.
Norwood, 37, appreciated the opportunity to compete at the Melanesian Games in Fiji, as he prepares for the world masters competition in Perth later this year.
He won his bronze medal with a throw of 14.46m.
Norwood missed silver by 4cm and the winner threw 15.09m, below Norwood's personal best.
"I was happy to receive a medal," the Ipswich and District Athletics Club thrower said.
"To finish in the top three was great.
"I was a little bit disappointed with my distance.
"I've thrown a lot further.
"My last throw was my biggest throw (about 16m). I just couldn't stay in the circle.
"It's good knowing that I can actually throw that far now."
Raceview-based Norwood hopes to compete at next month's Ipswich Winter Carnival and some club meets before finalising preparations for this year's world masters championships.
He's off to Perth in October for his next international event.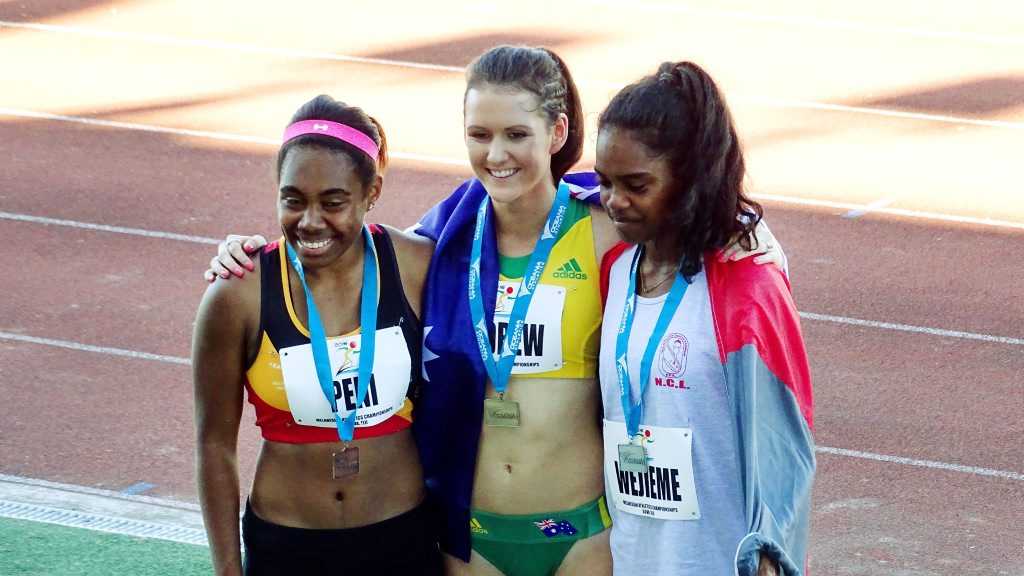 Ipswich-based athlete Miriam Peni (left) celebrates her bronze medal-winning performance at the Melanesian Games in Suva.
Another Ipswich club athlete Miriam Peni also performed well in Suva.
Representing her country of birth Papua New Guinea, the Ipswich Girls' Grammar School student won bronze medals in the under-18 100m and 200m competition.
Peni's times were 12.54s in the 100m (with a tailwind) and 26.27s in the 200m (running into a headwind).
Her coach Vic Pascoe made the trip to Fiji for the three-day competition and was encouraged with Peni's performance.
She had to endure a four-hour bus trip from Nadi to Suva to compete, after flying from Australia.
Peni has been living in Ipswich and studying at IGGS since moving to Australia in 2011.
However, she still represents PNG in international events.
Peni was ranked three in PNG in open competition going to the Melanesian Games.
Peni also worked with PNG coaches as a sign the sprinter is being closely monitored.
"They are looking at maybe the future," Pascoe said of Peni's selection to compete in Suva.
Despite the country being hit by a cyclone in February, Pascoe said it was a credit to organisers that the Melanesian Games were held.
"The track was very very good," Pascoe said.
Upcoming events
The annual Ipswich Park2Park races are on July 31.
This year's events include a half marathon and half marathon relay, 10km and 5km run, and 5km walk. For more information, visit: www.park2park.com.au
The 35th annual Ipswich Winter Carnival is on August 28 at Bill Paterson Oval.
The two major prizemoney events, offering $3000 each, are the tradition-rich Lightning Gift and Ladies Gift. Both events, for athletes aged 15 and over, will be run over the same 120m distance for the first time. A full program of athletics competition will be offered on the day.