FINE FINISH: Ipswich club runner Scott Tuohy (pink vest) noses ahead of Conor Loughnan (left) and Joshua Robinson heading towards the 120m Ipswich Lightning Gift finish line at Bill Paterson Oval.
A KISS of support, a blue shirt to treasure and a boost for the Commonwealth Games trials: Ipswich's latest Lightning Gift winner received it all.
Gold Coast runner Dylan Grant hopes to qualify for next year's Games in Scotland after a superb run in Ipswich's major handicap race at Bill Paterson Oval.
Coached by former Olympian Glynis Nunn-Cearns, Grant clocked 12.26 seconds in the 120m event to finish ahead of delighted Ipswich athlete Scott Tuohy.
Last year's Mulgowie Gift winner Tuohy ran a mighty race to clock 12.44s off his 8.75m start.
"It was a tremendous surprise," the Ipswich and District Athletic Club competitor said.
"I was really happy with my performance."
However, it was Grant who triumphed in Saturday's hot conditions at the annual Ipswich Winter Carnival.
He received a kiss from his girlfriend straight after the race before being given a blue shirt to inspire him in his bid for Commonwealth Games selection.
The shirt carried the signatures of Usain Bolt's Jamacian and Olympic sprint teammates Yohan Blake and Warren Weir, as well as their esteemed coach Glen Mills.
Ipswich club committee member Brad Duxbury organised the shirt, having spent time with the Races Track Club in Jamaica on a holiday. Duxbury generously offered the shirt as a prize.
Back in training for a year after a break, Grant was thrilled by his latest run. He's hoping to make the Australian team in the 400m.
"It's going really well," said Grant, 25, after enjoying his first professional run.
"I knew I was in good nick but I wasn't sure how I was going to go.
"I just wanted to relax today and have a bit of fun."
He represented Australia in the 4x400m relay at the Beijing Olympics. His coach Nunn-Cearns won a gold medal in heptathlon at the Los Angeles Olympics.
The Ipswich Ladies Gift over 100m was an equally thrilling affair with classy regional runner Larissa Chambers (11.99) placing third behind Brisbane-based Nikki Venardos (11.75) and early favourite Taneille Crase (11.76).
Vernardos sharpened up her sprinting in Ipswich, having won a similar handicap event in Toowoomba the past two years.
"I'm going for the hat-trick in October. That's my big goal," the QE2 club runner said.
"I enjoy it more than normal interclub racing."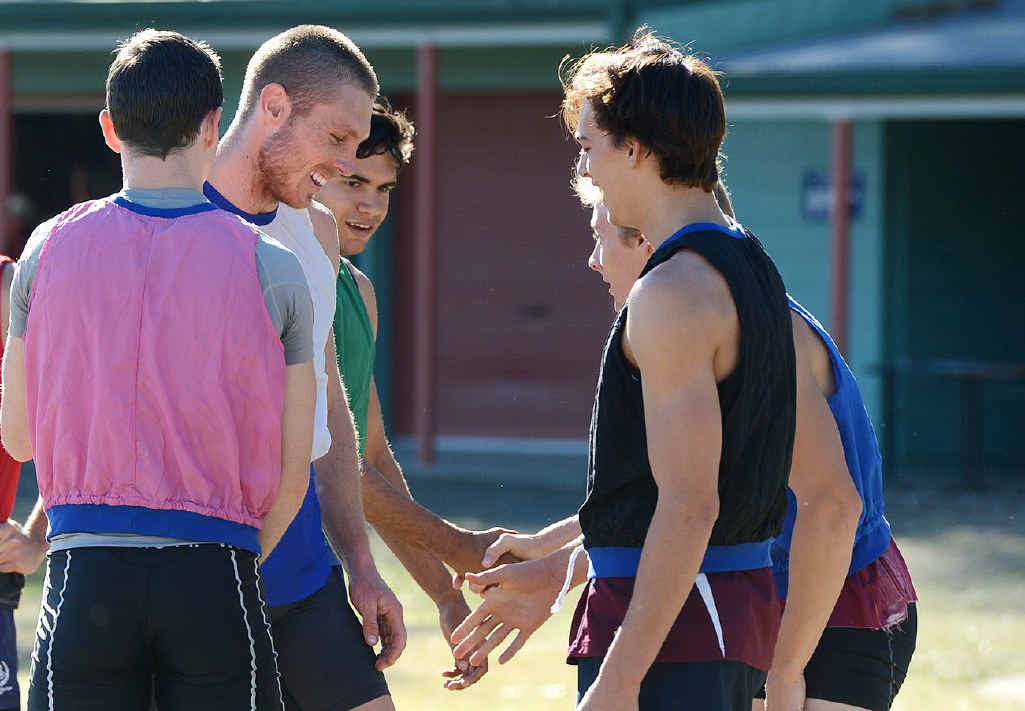 TERRIFIC RUN: Ipswich Lightning Gift winner Dylan Grant (white vest) is congratulated by other finalists.
Fast finishes
120m Lightning Gift final (handicap in brackets): 1. Dylan Grant (6.75m) 12.260, 2. Scott Tuohy (8.75) 12.440, 3. Joshua Robinson (7.50) 12.460, 4. Conor Loughnan (9) 12.500, 5. Chris Mansell (6.50) 12.610, 6. Isaac Dunmall (7.00) 12.620, 7. Grant McDonald (11.50) 13.180, 8. Jack Conway (7.00) 26.380.
100m Ladies Gift final: 1. Nikki Vernados (5.00) 11.750, 2. Taneille Crase (4.25) 11.760, 3. Larissa Chambers (4.00) 11.990, 4. Michelle Mackey (7.00) 12.060, 5. Kristy Knox (6.00) 12.100, 6. Emma Rynne (4.50) 12.100, 7. Madelyn Jones (8.00) 12.180, 8. Maddy Scheck (16.00) 13.140.